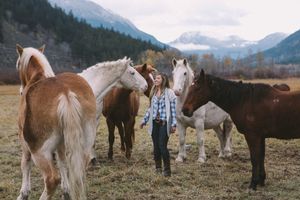 "

An old soul breathing life and emotion into the familiar stories of love, life, and heartbreak."
— Anthony Fiddler - Fiddler Productions
Chris Sloane is a Canadian singer-songwriter, artist and the voice behind Chris Sloane and the Small Town Runaways. Born and raised in the rural town of Erin, Ontario, she has been a fixture in venues up and down the Sea to Sky corridor on the West Coast of Canada for the better part of a decade. Always a fan of music that tells a story, she gravitated to Nashville, Tennessee to be surrounded by the great artists and songs that have shaped country music. With a voice described as both smokey and soulful, Chris Sloane will take you on a storytelling journey. a sound somewhere between country, rock, Americana, and blues, the Small Town Runaways are roots with a twist. 
A lover of music her entire life, Chris has been inspired by artists across the board; from listening to Stevie Wonder and going to see Earth Wind & Fire with her father, to the amazing women of 90s country, or alternative rock and folk/Americana concerts with her brother, Chris was raised on music. After performing throughout her time at the University of British Columbia, she now splits her time between Whistler, BC and Nashville, TN. 

In recent years Chris Sloane performed a resident artist for famed Nashville venues
Belmont Taps
& Tootsies Orchid Lounge 
& has been a finalist with the Small Town Runaways in several contests including:  
Roxy Breakthrough Project 2018 
RED TRUCK Concert series 2018
BCCMA Spotlight Performance Contest 2017
Whistler Music Search 2017 
Be the Best, Play the Fest" contest to perform at the Pemberton Music Festival 2016
They have performed at festivals such as the :
Hear & Now Whistler Music Festival 2017 & 2018
Cloverdale Rodeo 2018
BC Country Music Award Showcase 2017
& have been featured on radio stations in both Ontario and British Columbia including 102.1 Mountain FM, 101.5 whistler fm, 101.9 CiTR FM & 105.9 the region
If you want to keep up with Chris Sloane and the Small Town Runaways feel free to reach out via our contact form & join our mailing list!
much love,
chris sloane & the small town runaways
"

I think what I love most about country music is the story telling. Great songs are the ones people can relate to; about real life and experiences. There's something to be said for an honest song that comes from the heart."
— Chris Sloane